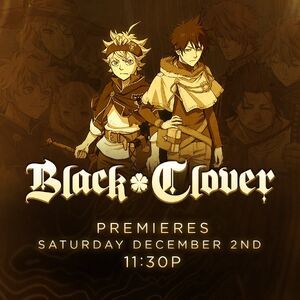 Series Overview
Edit
| Color | Story Arc | Episodes | Toonami Season Premiere | Toonami Season Finale |
| --- | --- | --- | --- | --- |
| | 1 | TBA | December 2, 2017 | TBA |
Arc 1: Introduction
Edit
No. in
Series

No. in
Story Arc

Episode Title

Japanese Airdate

Toonami Airdate

01
01
"Asta and Yuno"
October 3, 2017
December 2, 2017
Young Asta and Yuno are to receive powerful, personal magic tomes at the Grimoire Awarding Ceremony, but for one of them, the rite goes very wrong.
02
02
"A Young Man's Vow"
October 10, 2017
December 9, 2017
A flashback to young Asta and Yuno shows how much they've changed--and how much they've stayed the same. One thing's for sure: A promise is a promise.
03
03
"To the Royal Capital!"
October 17, 2017
December 16, 2017
Asta and Yuno set out on their journey to the far-distant royal capital of the Clover Kingdom to take the Magic Knights Entrance Exam.
04
04
"The Magic Knights Entrance Exam"
October 24, 2017
TBA
Joining the Magic Knights is the first step on Asta and Yuno's path to becoming the Wizard King. But does the magicless Asta even stand a chance?
05
05
"The Road to the Wizard King"
October 31, 2017
TBA
The grueling exam is over, and the Magic Knight captains choose the most promising examinees to join their squads.
Ad blocker interference detected!
Wikia is a free-to-use site that makes money from advertising. We have a modified experience for viewers using ad blockers

Wikia is not accessible if you've made further modifications. Remove the custom ad blocker rule(s) and the page will load as expected.