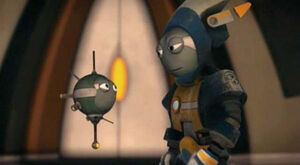 Clyde 54
is the fifth
Clyde
model and the final model of the
Cartoon Network
era of
Toonami
. It was introduced as part of the total look overhaul of the block that occurred on March 17, 2007. However, It only appeared briefly in the Toonami intro of the TOM 4 era and it is unknown what became of it after Toonami's cancelation on September 20, 2008.
Clyde 54 resembled its distant predecessor, the Clyde 50, but with an animated face similar to TOM 4, Flash, and D. It resided within the Toonami broadcasting station, Flowus 3, located on an unnamed planet.
Ad blocker interference detected!
Wikia is a free-to-use site that makes money from advertising. We have a modified experience for viewers using ad blockers

Wikia is not accessible if you've made further modifications. Remove the custom ad blocker rule(s) and the page will load as expected.