Immortal Grand Prix

Micro Series

Network

Cartoon Network (Toonami)

Broadcast Run

Sep. 15, 2003 - Sep. 19, 2003

Episodes

5 (List of Episodes)

Full-length Series (Initial Run)

Network

Cartoon Network (Toonami)
Cartoon Network

Broadcast Run

Nov. 5, 2005[1] - July 1, 2006
July 21, 2006[2] - Aug. 25, 2006

Episodes

26 (List of Episodes)

Full-length Series (Second Run)

Network

Adult Swim (Toonami)

Broadcast Run

April 27, 2013[3] - April 26, 2014

Full-length Series (Third Run)

Network

Adult Swim (Toonami)

Broadcast
Run

Jan. 3, 2015[4] - Jan. 24, 2015[5]
IGPX: Immortal Grand Prix refers to two anime series co-produced simultaneously by Cartoon Network and Production I.G. The first is a "microseries" consisting of five 5-minute episodes, and the second is a 26-episode animated series loosely related to the first. The program is rated TV-Y7-FV, TV-PG and TV-PG-L.
Koichi Mashimo co-wrote and directed the microseries, while Bee Train Animation and Production I.G animated it. Bandai Entertainment acted as the North American distributor. The full-length anime series was handled by director and writer Mitsuru Hongo and was animated by Production I.G, with Bee Train returning for in-between animation. Production I.G president Mitsuhisa Ishikawa joined on as producer for the series.
The series' production was managed by Williams Street in Atlanta, Georgia. Bang Zoom! Entertainment in Burbank, California produced the English dub for the series, as well as adapted the scripts alongside Williams Street.
An IGPX video game was released on September 12, 2006, for the PlayStation 2. The game was reviewed by Toonami and received a 7 out of 10.
The series was written off by Cartoon Network, which meant that it would never air on Cartoon Network or Cartoon Network-affiliated networks (Adult Swim) again, but on March 26, 2013, on the official Toonami tumblr it was announced that the only Toonami original series, IGPX would be making its return to Toonami, along with the new Absolution, the upgraded TOM 5, and the look overhaul on April 27, 2013.[3][6] The un-write off became possible through the complex structure of the IGPX production deal. The series ended its run on Toonami on April 26, 2014.
The series has been licensed by Discotek Media for a DVD rerelease in 2015.
The series returned to Toonami for a brief stint from January 3, 2015[4] to January 24, 2015.[5]
IGPX (Micro Series)
Edit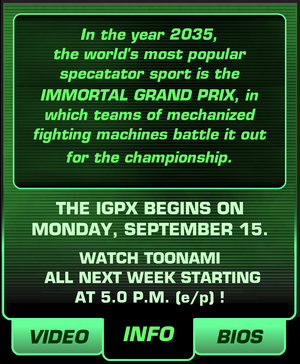 The IGPX Micro series was the 4th Toonami Total Immersion Event (T.I.E.) consisting of five 5-minute episodes, that ran from September 15-19, 2003. There was also a video game on cartoonnetwork.com that coincided with the T.I.E.
The Immortal Grand Prix is a tournament between teams of gun-wielding mechs. As Team Velshtein is injured, the random drawing chooses Team Suzaku as the one to face Team Sledge Mamma, a trio of cybernetically-enhanced cyborgs. The lead pilot of Team Suzaku would be Takeshi Noa. At first, Team Suzaku do not have weapons because their mechanic U-Matsu forgot them. Amy delivers weapons from Velshtein, but Team Suzaku has a hard time controlling them. Amy's cat co-pilot Luca takes control and knocks Timmer out of his mech. Liz (Kari Wahlgren), out of ammo, uses her capoeira image training. She is eventually at the mercy of an opposing pilot and surrenders. The Sledge Mamma mechs shoot at Takeshi, but Amy jumps in to save him and is out of the game. After being kicked around by the Sledge Mamma mechs, Takeshi reveals his plan. Using his ninjatō and shuriken, he knocks Dimmer and Yammer out of their mechs and wins.
IGPX (Full-Length Series)
Edit
The IGPX TV series made its hour-long premiere on November 5, 2005, at 10/9c on Cartoon Network's Toonami.[1][7] The series was Toonami's first and only original series. Originally, only the first 20 episodes of the series aired on Toonami; the last six were aired on Adult Swim outside of the Toonami block.[2] In 2013, the series returned to the revived Toonami block on Adult Swim. The series is set in 2049 and revolves around the Immortal Grand Prix, or IGPX, which is a mecha racing/battle circuit. The sport is so popular that an entire city has been built for the racing industry, where competitions take place on a huge 60-mile (97 km) track. In the IGPX, two teams of three mechs, high-tech fighting machines driven by humans, race at speeds greater than 350 mph (560 km/h). The IGPX also contains fighting elements; attacking the opposing team to disable their mechs (thus preventing them from winning the race) is not only legal, but also expected. Team Satomi, a crew of amateur pilots, has just won a minor-league championship, the IG-2, vaulting them into the sport's highest level, the IG-1. Now, the untested rookies of Team Satomi must overcome impossible odds and beat the world's most skilled and ruthless pilots.
Characters
Edit
Team SatomiEdit
Team Satomi is a crew of young rookies who have just won the minor league IG-2 Championship and are now entering the big leagues as an IG-1 team. This young and inexperienced group actually did achieve the impossible dream to go from complete obscurity to winning in the IG-1 not only once, but twice.
Takeshi Jin — As Team Satomi's 15 year old forward, Takeshi is a gifted pilot who seems to take nothing seriously, but his determination is strong when racing and he is also a practitioner of kendo. He has an affinity for hot dogs and video games, particularly Watch World where his dog-like character is named Katana. Although Takeshi is a skilled pilot, he has an emotional breakdown from a blow to his ego. He, unlike his teammates, seems to have a normal family life, along with a younger sister named Yuri, who loves teasing her brother, and barging in on him without asking, though it is obvious that she loves her big brother dearly and she claims to be his biggest fan and supporter. Takeshi also looks to his idol, a famous IGPX pilot known as Rocket G, or simply "The Rocket", as a source of inspiration. The Rocket is later revealed to be Team Satomi's coach Andrei Rublev. Takeshi was an item with Fantine Valjean and met with her at times when playing Watch World; however, in season 2, they broke up. Fantine realized that Takeshi and Liz have feelings for each other and thought of Takeshi as a friendly rival rather than a boyfriend. He also matures throughout the series, and in the final episode Takeshi and Liz admit their feelings for each other.
Elizabeth (Liz) Ricarro — Liz is Team Satomi's 16 year old defender. Very loud, busty and hot-tempered she generally behaves like a tomboy. Liz is very dedicated to IGPX as it was something that made her feel like she fit in. It is revealed in episode 6, "Cat vs. Dog", that Liz dislikes animals, especially dogs, although she learns to like Luca later in the series. She is also an avid martial artist, always practicing her Kung Fu (Capoeira in the microseries) and quoting Confucius. Liz is well-suited to her position as Defender. She always puts her teammates first and is a pilot who is skilled at observing and analyzing the plays of Satomi's opponents. Takeshi's contrasting attitude and antics on and off the track, always annoy her, but it is because she feels he's never being 'honest' with her about his feelings. At the end of the series they finally admit their feelings for each other. Aso, It is revealed that she is an orphan. She goes into modeling and uses the money to save her orphanage.
Amy Stapleton — A child prodigy, Amy is Team Satomi's 14 year old midfielder and battle tactician. She, being the physically weakest of the team, synchronizes with her cybernetically enhanced calico cat, Luca, to form a composite personality during IGPX Races. Quiet and sympathetic, Amy will often patch up conflicts between other team members, but her sweetness belies her considerable combat abilities. In season 2, Amy is injured in Team Satomi's race against White Snow. Andrei replaces her for both Velshtein vs Satomi and Skylark vs. Satomi matches. Throughout the series only Amy could hear Luca's 'voice' while racing with him in her mech. However, at the end of the series, at the beginning of Team Satomi's first race of the 2051 racing season, it is revealed that all members of Team Satomi can now hear his voice. In episode 4, "The Ghost", it is revealed that Amy dearly misses her parents, who are always out on business.
Michiru Satomi — The 24 year old granddaughter of the chairman of Satomi Heavy Industries. Her family allows her to manage Team Satomi in the faint hope that she can turn this failing franchise into a success story. Satomi may be young, but she is a hard worker and knows she has a special team, including a one-in-a-million pilot like Takeshi.
Andrei Rublev — The 45 year old coach of Team Satomi. Andrei practices an almost "zen" coaching style, in which he appears to be doing very little and motivates the team primarily with cryptic comments and instructions. The other team members do not know about Andrei's past prior to his joining team Satomi, apparently as a result of Andrei's contracts with unknown persons, but a promise that Andrei makes to Takeshi suggests that he could have connections with or be Rocket G. It was recently revealed that he is actually the Rocket himself and used to race with Sir Hamgra of Team Velshtein. He substitutes for Amy after she is injured during Satomi's race against White Snow, and plays Midfielder during their matches against Velshtein and Skylark. Despite being way out of practice, he manages to hold his own during the races and even manages to surprise a few people. It is noted, however, that despite his pacifistic coaching style, he's not above using some 'questionable' tactics on the field; he intentionally spins out his mech and crashes into and destroys two of Velshtein's mechs during the speed round of their race to ensure that Satomi doesn't lose. He has a wife and a daughter, but they left him. Recently, however, due to his more positive lifestyle gained from coaching Team Satomi, they have come back and are living together once more.
Mark Ramsey — At 26, Mark is one of the best IGPX mechanics in the game, and he's in it only for the love of his craft. In Season 2, he was the first to recognize Max since he read an article about her hacking into government servers until she was threatened with arrest. He is actually the heir to the Hiratake Conglomerate, the world's largest investment banking group, though he keeps it a closely guarded secret. Mark may care more about his beautiful machines than the team's pilots.
Jesse Martin — As Michiru Satomi's 19 year old assistant, she's always the one to cheer up her fellow members of Team Satomi when they are depressed. Once, when Miss Satomi talked about dropping out of the race between Team Satomi and Team Velshtein after Amy got sent to the hospital in the White Snow race, Jesse was the one to convince her otherwise, inspiring Andrei to temporarily replace Amy as Midfielder.
Voice Cast
Edit
| Color | Season | Episodes | Season Premiere | Season Finale |
| --- | --- | --- | --- | --- |
| | Micro Series | 5 | September 15, 2003 | September 19, 2003 |
| | 1 | 13 | November 5, 2005 | February 4, 2006 |
| | 2 | 13 | May 20, 2006 | August 26, 2006 |
IGPX refers to two anime series, The first is a "micro series" consisting of five 5-minute episodes, and the second is a 26-episode animated series loosely related to the first. The micro series premiered on Toonami from September 15-19, 2003. The 26 episode full-length series is made up of two seasons each consisting of 13 episodes. It premiered on Toonami on November 5, 2005 and the last episode to air on Toonami (episode 20) aired on July 1, 2006. The last 6 episodes aired on Cartoon Network outside of Toonami.
All episodes of IGPX have been released on DVD, including a complete box set released on September 12, 2006. In 2015, the series was licensed by Discotek Media and a remastered box set titled, IGPX: Immortal Grand Prix - The Complete Stage, was released on February 9, 2016.
External Links
Edit
References
Edit
↑ 1.0 1.1 "San Diego Comic-Con International 2005 Comic Con - Cartoon Network / IGPX ". animenewsnetwork.com. July 21, 2005. http://www.animenewsnetwork.com/convention/2005/san-diego-comic-con-international/3

. Retrieved on March 30, 2015

.

 

↑ 2.0 2.1 "IGPX Races to Friday Nights ". animenewsnetwork.com. July 16, 2006. http://www.animenewsnetwork.com/news/2006-07-16/igpx-races-to-friday-nights

. Retrieved on March 30, 2015

.

 

↑ 3.0 3.1 "April 27th ". toonami.tumblr.com. March 26, 2013. http://toonami.tumblr.com/post/46385114366/april-27th-why-should-you-care-about-april-27th

. Retrieved on March 30, 2015

.

 

↑ 4.0 4.1 "New Year New Schedule New News ". toonami.tumblr.com. December 5, 2014. http://toonami.tumblr.com/post/104441873323/new-year-new-schedule-new-news

. Retrieved on December 5, 2014

.

 

↑ 5.0 5.1 "LINE UP CHANGES - EFFECTIVE TOMORROW ". toonami.tumblr.com. January 23, 2015. http://toonami.tumblr.com/post/108934242548/line-up-changes-effective-tomorrow

. Retrieved on January 23, 2015

.

 

↑ "April 27th Line up - Tom 5 is Coming! ". toonami.tumblr.com. April 12, 2013. http://toonami.tumblr.com/post/47788167410/april-27th-line-up-tom-5-is-coming

. Retrieved on September 28, 2014

.

 

↑ "Bobobo, IGPX premiere dates announced ". animenewsnetwork.com. September 6, 2005. http://www.animenewsnetwork.com/news/2005-09-06/bobobo-igpx-premiere-dates-announced

. Retrieved on March 30, 2015

.