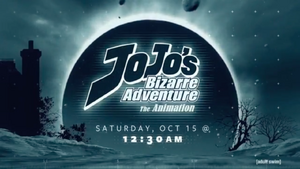 JoJo's Bizarre Adventure
is a Japanese anime series, based on the manga series of the same name by Hirohito Araki. The series, produced by David Production and directed by Kenichi Suzuki, premiered on Tokyo MX in Japan on October 5, 2012. Different art styles have been used for each season of the series.
In North America, Warner Bros. initially licensed the series for North American DVD/Blu Ray release and produced an English dub. The series began streaming on Crunchyroll with English subtitles on April 4, 2014. Viz Media also licensed the series in North America and began streaming the series on its website in April 2014.
The series began airing on Adult Swim's Toonami block on October 15, 2016.
Series Overview
Edit
| Color | Story Arc | Episodes | Toonami Season Premiere | Toonami Season Finale |
| --- | --- | --- | --- | --- |
| | Phantom Blood | 09 | October 15, 2016 | November 17, 2016 |
| | Battle Tendency | 17 | November 17, 2016 | TBD |
Phantom Blood
Edit
No. in
Series

No. in
Story Arc

Episode Title

Japanese Airdate

Toonami Airdate

01
01
"Dio the Invader"
October 5, 2012
October 15, 2016
Englishman George Joestar mistakenly assumes Dario Brando had saved his life during a carriage accident, and decides to adopt his son, Dio. Heir to the Joestar Estate, Jonathan Joestar, attempts to befriend Dio, but Dio's plan from the start is to drive JoJo to madness and earn George's trust so that he can become the heir to the Joestar fortune. Dio violently beats JoJo in a boxing match, turns his friends against him, steals his girlfriend Erina's first kiss, and even burns his dog Danny to death in an incinerator.
02
02
"A Letter From the Past"
October 12, 2012
October 22, 2016
Seven years later in 1888, JoJo and Dio are supposedly getting along, though JoJo is still fearful of Dio after what happened all those years ago. Meanwhile, Dio plots to take over the Joestar family.
03
03
"Youth with Dio"
October 19, 2012
November 5, 2016
Having found an antidote and given it to George, JoJo prepares to turn Dio in to the police. Dio tries to get JoJo's guard down by saying he will turn himself in, but Speedwagon, who has followed JoJo from London, sees through Dio's lies.
04
04
"Overdrive"
October 26, 2012
November 12, 2016
Three days after the incident, JoJo awakens to find Erina nursing him back to health in the hospital. As they rekindle their friendship, they encounter a strange man named Will A. Zeppeli.
05
05
"The Dark Knights"
November 2, 2012
November 19, 2016
Upon arriving in Windknights Lot, JoJo's group is pickpocketed by a talented young boy named Poco who JoJo and Zeppeli manage to catch using their ripple powers.
06
06
"Tomorrow's Courage"
November 9, 2012
November 26, 2016
As Bruford manages to barely avoid JoJo's attack, JoJo is once again ensnared by his hair. However, JoJo manages to block Bruford's attack...
07
07
"Sorrowful Successor"
November 16, 2012
December 3, 2016
Zeppeli recalls how Tonpetty foretold where his death would take place; in the very place he is in right now. Knowing this, Zeppeli fights against Tarkus with the intention of finding a way to free JoJo.
08
08
"Bloody Battle! JoJo & Dio"
November 23, 2012
December 10, 2016
After Poco hears that Peggy has gone out to search for him, Dio sends a zombie named Doobie to attack Peggy after she refuses to join his legion.
09
09
"The Final Ripple!"
November 30, 2012
December 17, 2016
As Dio falls following his battle with JoJo, he decapitates himself before the ripple reaches his head, which is recovered by his zombie servant Wang Chung.
Battle Tendency
Edit
No. in
Series

No. in
Story Arc

Episode Title

Japanese Airdate

Toonami Airdate

10
01
"New York's JoJo"
December 7, 2012
December 17, 2016
In 1938, 49 years after Jonathan Joestar's death, Speedwagon and Straizo travel to Mexico, where they discover an underground room filled with similar looking masks and a petrified body believed to be the being who created them.
11
02
"The Game Master"
December 14, 2012
January 7, 2017
As expected, Straizo recovers from Joseph's attack and uses the laser eye attack Dio used to seemingly pierce through Joseph's head and neck. However, this turns out to be a clever trick by Joseph, who manages to attack Straizo with the Hamon.
12
03
"The Pillar Man"
December 21, 2012
January 14, 2017
Joseph is confronted by one of Stroheim's men, Donovan, but manages to subdue him, learning that Speedwagon is still alive. Meanwhile, Stroheim manages to awaken the Pillar Man by sacrificing several prisoners to flood the chamber with blood.
13
04
"JoJo vs. the Ultimate Lifeform"
January 4, 2013
January 21, 2017
As JoJo begins to fight Santana, Joseph finds his Hamon to not be effective against him, but it still helps protect him from the Pillar Man's attacks. Joseph appears to be knocked unconscious after receiving a powerful hit, allowing Santana to absorb him. However, this is all part of Joseph's plan so he can use the Hamon inside of Santana's body.
14
05
"Ultimate Warriors from Ancient Times"
January 11, 2013
January 28, 2017
Speedwagon brings statued remains of Santana to the headquarters of his foundation in Washington, D.C., where it is shown Santana is still alive, but his scientists are able to keep him dormant through the use of ultraviolet light. Remembering Stroheim's words that there are three more powerful Pillar Men somewhere in Europe, Speedwagon takes Joseph to Rome to meet Will Zeppeli's grandson, Caesar, who is also skilled in using the Hamon.
15
06
"A Hero's Proof"
January 18, 2013
February 4, 2017
Caesar engages Wamuu in battle for killing Mark, using his Bubble Launcher technique to surround the Pillar Man in Hamon enfused bubbles. Once Wamuu realizes he is facing a Hamon user, he uses his mysterious headgear.
16
07
"Lisa Lisa, Hamon Coach"
January 25, 2013
February 11, 2017
Wanting to teach Joseph to control his Hamon powers, Caesar takes him to Venice to meet his teacher, Lisa Lisa. Lisa Lisa orders Joseph to wear a mask that limits his breathing for the duration of his training so he can better focus his Hamon. To start their training, Lisa Lisa tasks Joseph and Caesar to climb the Hell Climb Pillar, a 24-meter pillar covered in oil, that they can only climb using Hamon or else they will starve to death at the pillar's foot.
17
08
"The Deeper Plan"
February 1, 2013
February 18, 2017
Lisa Lisa explains to Joseph and Caesar how the creator of the Stone Mask, Kars, is seeking a perfectly cut Red Stone of Aja known as the Super Aja to power the Stone Mask and become the ultimate lifeform.
18
09
"Von Stroheim's Revenge"
February 8, 2013
February 25, 2017
As Joseph awaits to warn Lisa Lisa about the Pillar Men, Esidisi's brain takes over the body of Suzi Q and sends the Super Aja off on a boat bound for Venice before confronting Lisa Lisa. Before Joseph and Caesar can pursue the boat, Esidisi stands in their way, knowing full well they cannot kill him without killing Suzi Q as well.
19
10
"A Race Towards the Brink"
February 15, 2013
March 4, 2017
Stroheim starts using his new mechanical body, which was designed to surpass Santana, to fight against Kars. However, it proves futile against Kars' Light Mode, a series of jagged blades on his arm-blades that move so fast in a chainsaw motion that they radiate light.
20
11
"Young Caesar"
February 22, 2013
March 11, 2017
Lisa Lisa tells Joseph of Caesar's childhood, in which he took to crime at a young age after being abandoned by his debt-ridden father, Mario.
Ad blocker interference detected!
Wikia is a free-to-use site that makes money from advertising. We have a modified experience for viewers using ad blockers

Wikia is not accessible if you've made further modifications. Remove the custom ad blocker rule(s) and the page will load as expected.