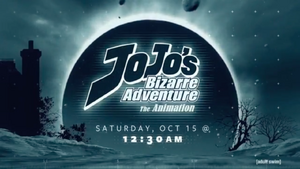 JoJo's Bizarre Adventure
is a Japanese anime series, based on the manga series of the same name by Hirohito Araki. The series, produced by David Production and directed by Kenichi Suzuki, premiered on Tokyo MX in Japan on October 5, 2012. Different art styles have been used for each season of the series.
In North America, Warner Bros. initially licensed the series for North American DVD/Blu Ray release and produced an English dub. The series began streaming on Crunchyroll with English subtitles on April 4, 2014. Viz Media also licensed the series in North America and began streaming the series on its website in April 2014.
The series began airing on Adult Swim's Toonami block on October 15, 2016.
Series Overview
Edit
| Color | Story Arc | Episodes | Toonami Season Premiere | Toonami Season Finale |
| --- | --- | --- | --- | --- |
| | Phantom Blood | 09 | October 15, 2016 | November 17, 2016 |
| | Battle Tendency | 17 | November 17, 2016 | TBD |
Phantom Blood
Edit
No. in
Series

No. in
Story Arc

Episode Title

Japanese Airdate

Toonami Airdate

01
01
"Dio the Invader"
October 5, 2012
October 15, 2016
Englishman George Joestar mistakenly assumes Dario Brando had saved his life during a carriage accident, and decides to adopt his son, Dio. Heir to the Joestar Estate, Jonathan Joestar, attempts to befriend Dio, but Dio's plan from the start is to drive JoJo to madness and earn George's trust so that he can become the heir to the Joestar fortune. Dio violently beats JoJo in a boxing match, turns his friends against him, steals his girlfriend Erina's first kiss, and even burns his dog Danny to death in an incinerator.
02
02
"A Letter From the Past"
October 12, 2012
October 22, 2016
Seven years later in 1888, JoJo and Dio are supposedly getting along, though JoJo is still fearful of Dio after what happened all those years ago. Meanwhile, Dio plots to take over the Joestar family.
03
03
"Youth with Dio"
October 19, 2012
November 5, 2016
Having found an antidote and given it to George, JoJo prepares to turn Dio in to the police. Dio tries to get JoJo's guard down by saying he will turn himself in, but Speedwagon, who has followed JoJo from London, sees through Dio's lies.
04
04
"Overdrive"
October 26, 2012
November 12, 2016
Three days after the incident, JoJo awakens to find Erina nursing him back to health in the hospital. As they rekindle their friendship, they encounter a strange man named Will A. Zeppeli.
05
05
"The Dark Knights"
November 2, 2012
November 19, 2016
Upon arriving in Windknights Lot, JoJo's group is pickpocketed by a talented young boy named Poco who JoJo and Zeppeli manage to catch using their ripple powers.
06
06
"Tomorrow's Courage"
November 9, 2012
November 26, 2016
As Bruford manages to barely avoid JoJo's attack, JoJo is once again ensnared by his hair. However, JoJo manages to block Bruford's attack...
07
07
"Sorrowful Successor"
November 16, 2012
December 3, 2016
Zeppeli recalls how Tonpetty foretold where his death would take place; in the very place he is in right now. Knowing this, Zeppeli fights against Tarkus with the intention of finding a way to free JoJo.
08
08
"Bloody Battle! JoJo & Dio"
November 23, 2012
December 10, 2016
After Poco hears that Peggy has gone out to search for him, Dio sends a zombie named Doobie to attack Peggy after she refuses to join his legion.
09
09
"The Final Ripple!"
November 30, 2012
December 17, 2016
As Dio falls following his battle with JoJo, he decapitates himself before the ripple reaches his head, which is recovered by his zombie servant Wang Chung.
Battle Tendency
Edit
No. in
Series

No. in
Story Arc

Episode Title

Japanese Airdate

Toonami Airdate

10
01
"New York's JoJo"
December 7, 2012
December 17, 2016
In 1938, 49 years after Jonathan Joestar's death, Speedwagon and Straizo travel to Mexico, where they discover an underground room filled with similar looking masks and a petrified body believed to be the being who created them.
Ad blocker interference detected!
Wikia is a free-to-use site that makes money from advertising. We have a modified experience for viewers using ad blockers

Wikia is not accessible if you've made further modifications. Remove the custom ad blocker rule(s) and the page will load as expected.