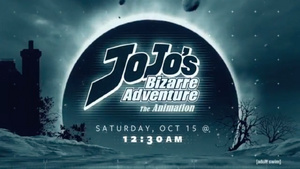 Series Overview
Edit
Phantom Blood
Edit
No. in
Series

No. in
Story Arc

Episode Title

Japanese Airdate

Toonami Airdate

01
01
"Dio the Invader"
October 5, 2012
October 15, 2016
Englishman George Joestar mistakenly assumes Dario Brando had saved his life during a carriage accident, and decides to adopt his son, Dio. Heir to the Joestar Estate, Jonathan Joestar, attempts to befriend Dio, but Dio's plan from the start is to drive JoJo to madness and earn George's trust so that he can become the heir to the Joestar fortune. Dio violently beats JoJo in a boxing match, turns his friends against him, steals his girlfriend Erina's first kiss, and even burns his dog Danny to death in an incinerator.
02
02
"A Letter From the Past"
October 12, 2012
October 22, 2016
Seven years later in 1888, JoJo and Dio are supposedly getting along, though JoJo is still fearful of Dio after what happened all those years ago. Meanwhile, Dio plots to take over the Joestar family.
03
03
"Youth with Dio"
October 19, 2012
November 5, 2016
Having found an antidote and given it to George, JoJo prepares to turn Dio in to the police. Dio tries to get JoJo's guard down by saying he will turn himself in, but Speedwagon, who has followed JoJo from London, sees through Dio's lies.
04
04
"Overdrive"
October 26, 2012
November 12, 2016
Three days after the incident, JoJo awakens to find Erina nursing him back to health in the hospital. As they rekindle their friendship, they encounter a strange man named Will A. Zeppeli.
05
05
"The Dark Knights"
November 2, 2012
November 19, 2016
Upon arriving in Windknights Lot, JoJo's group is pickpocketed by a talented young boy named Poco who JoJo and Zeppeli manage to catch using their ripple powers.
06
06
"Tomorrow's Courage"
November 9, 2012
November 26, 2016
As Bruford manages to barely avoid JoJo's attack, JoJo is once again ensnared by his hair. However, JoJo manages to block Bruford's attack...
07
07
"Sorrowful Successor"
November 16, 2012
December 3, 2016
Zeppeli recalls how Tonpetty foretold where his death would take place; in the very place he is in right now. Knowing this, Zeppeli fights against Tarkus with the intention of finding a way to free JoJo.
08
08
"Bloody Battle! JoJo & Dio"
November 23, 2012
December 10, 2016
After Poco hears that Peggy has gone out to search for him, Dio sends a zombie named Doobie to attack Peggy after she refuses to join his legion.
09
09
"The Final Ripple!"
November 30, 2012
December 17, 2016
As Dio falls following his battle with JoJo, he decapitates himself before the ripple reaches his head, which is recovered by his zombie servant Wang Chung.
Battle Tendency
Edit
No. in
Series

No. in
Story Arc

Episode Title

Japanese Airdate

Toonami Airdate

10
01
"New York's JoJo"
December 7, 2012
December 17, 2016
In 1938, 49 years after Jonathan Joestar's death, Speedwagon and Straizo travel to Mexico, where they discover an underground room filled with similar looking masks and a petrified body believed to be the being who created them.
11
02
"The Game Master"
December 14, 2012
January 7, 2017
As expected, Straizo recovers from Joseph's attack and uses the laser eye attack Dio used to seemingly pierce through Joseph's head and neck. However, this turns out to be a clever trick by Joseph, who manages to attack Straizo with the Hamon.
12
03
"The Pillar Man"
December 21, 2012
January 14, 2017
Joseph is confronted by one of Stroheim's men, Donovan, but manages to subdue him, learning that Speedwagon is still alive. Meanwhile, Stroheim manages to awaken the Pillar Man by sacrificing several prisoners to flood the chamber with blood.
13
04
"JoJo vs. the Ultimate Lifeform"
January 4, 2013
January 21, 2017
As JoJo begins to fight Santana, Joseph finds his Hamon to not be effective against him, but it still helps protect him from the Pillar Man's attacks. Joseph appears to be knocked unconscious after receiving a powerful hit, allowing Santana to absorb him. However, this is all part of Joseph's plan so he can use the Hamon inside of Santana's body.
14
05
"Ultimate Warriors from Ancient Times"
January 11, 2013
January 28, 2017
Speedwagon brings statued remains of Santana to the headquarters of his foundation in Washington, D.C., where it is shown Santana is still alive, but his scientists are able to keep him dormant through the use of ultraviolet light. Remembering Stroheim's words that there are three more powerful Pillar Men somewhere in Europe, Speedwagon takes Joseph to Rome to meet Will Zeppeli's grandson, Caesar, who is also skilled in using the Hamon.
15
06
"A Hero's Proof"
January 18, 2013
February 4, 2017
Caesar engages Wamuu in battle for killing Mark, using his Bubble Launcher technique to surround the Pillar Man in Hamon enfused bubbles. Once Wamuu realizes he is facing a Hamon user, he uses his mysterious headgear.
16
07
"Lisa Lisa, Hamon Coach"
January 25, 2013
February 11, 2017
Wanting to teach Joseph to control his Hamon powers, Caesar takes him to Venice to meet his teacher, Lisa Lisa. Lisa Lisa orders Joseph to wear a mask that limits his breathing for the duration of his training so he can better focus his Hamon. To start their training, Lisa Lisa tasks Joseph and Caesar to climb the Hell Climb Pillar, a 24-meter pillar covered in oil, that they can only climb using Hamon or else they will starve to death at the pillar's foot.
17
08
"The Deeper Plan"
February 1, 2013
February 18, 2017
Lisa Lisa explains to Joseph and Caesar how the creator of the Stone Mask, Kars, is seeking a perfectly cut Red Stone of Aja known as the Super Aja to power the Stone Mask and become the ultimate lifeform.
18
09
"Von Stroheim's Revenge"
February 8, 2013
February 25, 2017
As Joseph awaits to warn Lisa Lisa about the Pillar Men, Esidisi's brain takes over the body of Suzi Q and sends the Super Aja off on a boat bound for Venice before confronting Lisa Lisa. Before Joseph and Caesar can pursue the boat, Esidisi stands in their way, knowing full well they cannot kill him without killing Suzi Q as well.
19
10
"A Race Towards the Brink"
February 15, 2013
March 4, 2017
Stroheim starts using his new mechanical body, which was designed to surpass Santana, to fight against Kars. However, it proves futile against Kars' Light Mode, a series of jagged blades on his arm-blades that move so fast in a chainsaw motion that they radiate light.
20
11
"Young Caesar"
February 22, 2013
March 11, 2017
Lisa Lisa tells Joseph of Caesar's childhood, in which he took to crime at a young age after being abandoned by his debt-ridden father, Mario.
21
12
"A Hundred Against Two"
March 1, 2013
March 18, 2017
Whilst following Wamuu's trail of blood, Joseph and Lisa Lisa encounter another vampire named Wired Beck, but Lisa Lisa manages to defeat him easily using her Hamon-empowered scarf. As they press on, Joseph states he will not take the antidote he received until he has beaten Wamuu as a promise to Caesar. They soon arrive before Wamuu, where Kars is also waiting for them, along with a hundred vampire minions.
22
13
"A True Warrior"
March 8, 2013
March 25, 2017
Before Joseph's and Wamuu's race begins, it is revealed that during each lap, there will be a different weapon for whoever can grab it from a pillar first.
23
14
"The Warrior of Wind"
March 15, 2013
April 1, 2017
Launching his Final Mode attack, Gathering Gale, which starts peeling away his own body, Wamuu begins firing a stream of wind capable of cutting stone towards Joseph. After a failed attempt at attacking him with a firebomb, Joseph strikes at Wamuu with Caesar's flaming bandana, which Wamuu shreds with his wind. However, this is all part of Joseph's plan, as both the oil from the bomb and the burning embers of Caesar's bandana have been breathed in by Wamuu, causing him to explode from the inside.
24
15
"The Ties That Bind JoJo"
March 22, 2013
April 8, 2017
Being forced to cling onto a rope to stop Lisa Lisa from falling to her death, Joseph is at a huge disadvantage against Kars. Feeling he has a plan, Joseph sets his scarf on fire, stating he will finish Kars off before it fully burns.
25
16
"The Birth of a Superbeing!!"
March 29, 2013
April 15, 2017
Kars demonstrates his new powers, turning his hand into a flesh-eating squirrel that deals damage to Stroheim. The sun rises, killing the rest of the vampire minions, but Kars remains standing, immune thanks to the power of the stone. Joseph grabs the stone and runs off with Smokey to lure Kars away from the others whilst thinking of a plan.
26
17
"The Ascendant One"
April 5, 2013
April 15, 2017
Joseph's victory is shortlived when Kars emerges from the lava unharmed, having formed an insulating shell around him, and in one swift movement he slices off Joseph's hand. Kars reveals that he and other Pillar Men were part of a fourth race of humanity living underground, which he exterminated when they retaliated against his thirst for power and the creation of the Stone Masks.
Stardust Crusaders
Edit
No. in
Series

No. in
Story Arc

Episode Title

Japanese Airdate

Toonami Airdate

27
01
"A Man Possessed by an Evil Spirit"
April 4, 2014
July 29, 2017
In 1983, off the coast of the Canary Islands, a coffin with the word "DIO" on the front is salvaged from the depths. The crew attempts to open it, finding it locked from the inside. Later, their ship is found, mysteriously abandoned with no signs of a struggle. Four years later, in 1987, in Japan, a boy named Jotaro has willingly turned himself into the police, refusing to leave as he believes he is possessed by an evil spirit. In response, Jotaro's mother, calls her father and Jotaro's grandfather, Joseph Joestar for assistance.
28
02
"Who Will Be the Judge!?"
April 11, 2014
August 5, 2017
As Jotaro heads out to school with some of his female admirers, a cut suddenly appears on Jotaro's leg, causing him to fall down a flight of stairs, only managing to save himself by using his Stand to grab onto nearby tree branches and divert his fall.
29
03
"The Curse of DIO"
April 18, 2014
August 12, 2017
Joseph reveals that the object on Kakyoin's forehead is a "flesh bud" that has a tendril going straight into his brain, making him swear loyalty to DIO simply through charisma. Avdol reveals that he was once approached by DIO in this manner, barely managing to escape unharmed. Determined to save Kakyoin, Jotaro uses the precise nature of his Stand to attempt to remove the bud from Kakyoin's brain.
30
04
"Tower of Gray"
April 25, 2014
August 19, 2017
As their plane reaches the airspace over Taiwan, Jotaro and the others are awoken from their slumber by the sound of a flying stag beetle, which Avdol identifies as an evil Stand known as Tower of Gray, which is responsible for causing mass murders that look like tragic accidents.
31
05
"Silver Chariot"
May 2, 2014
August 26, 2017
The swordsman, who introduces himself as Jean Pierre Polnareff, decides to take their fight outside to give Avdol a chance to use his powers to his full extent. He leads the group to the Tiger Balm Garden, predicting he will defeat Avdol with his own Stand's abilities.
32
06
"Dark Blue Moon"
May 9, 2014
September 9, 2017
Upon beginning their journey towards Singapore, which will take them three days by sea, the Joestar group discovers a stowaway on board wanting to reunite with their father. The stowaway attempts to swim away in the ocean, which is soon discovered to be infested with sharks, but the stowaway is rescued by Jotaro, who discovers that the child is actually a girl named Anne.
33
07
"Strength"
May 16, 2014
September 16, 2017
As DIO contemplates over how the Joestar bloodline cannot be underestimated, his advisor, Enya the hag, assures him they still have many Stand-using assassins to stop the Joestars and their comrades from finding him. Elsewhere, the Joestar group boards the freighter, unable to find a single soul on board save for a lone caged orangutan named Forever. Suddenly, one of the ship's cranes' hooks moves by itself and kills one of the crew members, despite nobody operating the machinery.
34
08
"Devil"
May 23, 2014
September 23, 2017
Wishing to keep Anne safe until she is due to meet with her father, the Joestar group check into a hotel, with Polnareff put into his own room. Upon entering his room, Polnareff realises quickly that one of DIO's assassins, Devo the Cursed, is hiding in his refrigerator. Polnareff seemingly defeats Devo easily, but Devo claims that being attacked was his plan all along, as he must be injured in order for his Stand Ebony Devil to work.
35
09
"Yellow Temperance"
May 30, 2014
September 30, 2017
Jotaro and Anne suspect something is wrong with Kakyoin after observing some odd characteristics, such as brutally beating up a thief, eating beetles, and licking a cherry in a disgusting manner. After nearly being pushed off a balcony at the cable car station, Jotaro, believing Kakyoin to be possessed, punches him, revealing him to be an impostor named Rubber Soul, one of DIO's assassins.
36
10
"The Emperor and the Hanged Man, Part 1"
June 6, 2014
October 7, 2017
The Joestar group arrives in Calcutta, India, and after an encounter with the local beggars the group stops at a nearby restaurant to relax. After having an unfortunate meeting with a pig in the restaurant's toilet, Polnareff sees a Stand in the mirror, and realizes that it must be J. Geil's Stand the Hanged Man.
37
11
"The Emperor and the Hanged Man, Part 2"
June 13, 2014
October 14, 2017
Kakyoin tries to convince Polnareff to retreat to safety until they can discover a way to beat the deadly pair, but J. Geil provokes Polnareff into attacking his Hanged Man within a glass window, using the broken shards of glass to pin him down. However, just as Hol Horse fires a round off with the Emperor, Kakyoin uses Emerald Splash on Polnareff to get him out of the way, and escapes with him in a car.
38
12
"The Empress"
June 20, 2014
October 21, 2017
Sensing J. Geil's death through the connection in her bloodline, Enya prepares to take revenge on his assailants with her minion who uses the Empress Stand. Elsewhere, Jotaro's group travel by bus towards Varanasi, joined by the woman from before, who introduces herself as Nena.
39
13
"Wheel of Fortune"
June 27, 2014
November 4, 2017
On their way to Pakistan, the group finds Anne hitchhiking at the side of the road and they reluctantly take her along with them. Upon continuing their journey, a red car gets in their way and leads them into the path of an oncoming truck, with Jotaro quickly using Star Platinum to avoid a fatal collission. After stopping at a roadside tea house later on, the group, believing the owner of the red car to be a Stand user, spots the car parked nearby and start searching for the owner, only for the car to drive off.
40
14
"Justice, Part 1"
July 4, 2014
November 11, 2017
After explaining Holly's situation to her, Joseph manages to convince Anne to return back to her home in Hong Kong. With heavy fog making it dangerous to continue driving near the cliffs towards Karachi, the group stops by a nearby town to look for a hotel. After failing to get directions from a strangely silent restaurant owner, the group comes across a dead body lying on the street, uncertain of what has caused the man's death.
41
15
"Justice, Part 2"
July 11, 2014
November 18, 2017
Enya rushes to hide Hol Horse's corpse from Polnareff to avoid alerting the others, struggling to suppress her rage when Polnareff shows his appreciation of her "hospitality". However, Hol Horse, who is still alive, alerts Polnareff to an attack from Enya, who uses Justice's fog to control the dead civilians of the village like zombies.
42
16
"The Lovers, Part 1"
July 18, 2014
December 2, 2017
As the group stop by a kebab shop in Karachi, the store owner turns out to be Steely Dan, wielder of the Lovers Stand, who gloats as Enya is killed by some of DIO's flesh buds that Steely Dan had implanted in her body to keep her from revealing the truth.
43
17
"The Lovers, Part 2"
July 25, 2014
December 9, 2017
As Jotaro continues to put up with Steely Dan's whims, Kakyoin and Polnareff's Stands arrive in Joseph's brain where The Lovers and the Flesh Bud are. Although Polnareff acts first, he is hurt when the Lovers uses Joseph's brain cells to disguise himself as Heirophant Green and make several dummies of itself, leaving them unable to determine which one is the real Stand.
44
18
"The Sun"
August 1, 2014
December 16, 2017
Upon arriving in the United Arab Emirates, Joseph purchases an expensive car, which he later trades for a group of camels to ride through the Arabian Desert, despite having never ridden one before. After the group eventually manages to get on their way, Jotaro and Kakyoin feel like someone is watching them, but cannot find anyone suspicious. Once they realize that the sun is still in the sky, even at 8 o'clock in the evening, with the temperature rapidly increasing, the group realizes what they thought was the sun is actually the Stand the Sun.
45
19
"Death 13, Part 1"
August 8, 2014
January 6, 2018
Kakyoin dreams about being in a strange amusement park, where he encounters the Death tarot card. While in the dream, he witnesses Death cut down a dog. Kakyoin wakes up screaming, but can't remember what his bad dream was about.
46
20
"Death 13, Part 2"
August 15, 2014
January 13, 2018
Kakyoin tries to convince the others that the baby is suspicious, but that backfires, and his friends start to doubt his sanity. Kakyoin then tries to use his Stand to attack, but is knocked out by Polnareff. Eventually, Jotaro and the others wake up in the nightmare and the truth is finally revealed.
47
21
"Judgement, Part 1"
August 22, 2014
January 20, 2018
Jotaro and the others visit an island on the Red Sea to see someone. When they get to the island, they meet someone that looks just like Avdol, but with white hair... his father! However, it appears that he doesn't want to speak to Jotaro and the others, and retreats into his house. Polnareff goes to the beach, reflecting on the sadness of the fact that Avdol died protecting him.
48
22
"Judgement, Part 2"
August 29, 2014
January 27, 2018
Polnareff revives his sister using one of the wishes he received, but then is attacked by her. The enemy stand user, Cameo says he'll grant his other wish, and revives Avdol. The revived Shelly and Avdol then try to eat Polnareff alive.
49
23
"The High Priestess, Part 1"
September 5, 2014
February 3, 2018
Jotaro and the others obtain a submarine as a new means of travel. Through the Red Sea, they try to head toward Egypt where Dio awaits. Using the sonar to detect any threats on the outside, the submarine quietly dives in. They however realize that if they're attacked underwater, there is nowhere to escape, so they are on their guard. Finally, when they are about to surface, a coffee mug that was in the cabin transforms and cuts off Joseph's artificial hand.
50
24
"The High Priestess, Part 2"
September 12, 2014
February 10, 2018
Jotaro and the others try to escape from the submarine, as it is now sinking from an attack from the enemy Stand, High Priestess. As the group puts on scuba gear and heads out into the water, the enemy Stand attacks again. The enemy keeps changing shape, but somehow, Jotaro and crew manage to escape.
Stardust Crusaders: Battle in Egypt
Edit
No. in
Series

No. in
Story Arc

Episode Title

Japanese Airdate

Toonami Airdate

51
01
"Iggy the Fool and Geb's N'doul, Part 1"
January 9, 2015
February 17, 2018
Jojo and the others land in Egypt where Dio awaits, and are cutting through the desert, when a helicopter approaches them. The helicopter belonged to the Speedwagon Foundation that had been helping them on their journey so far, and brought them something that Joseph had asked for.
52
02
"Iggy the Fool and Geb's N'doul, Part 2"
January 16, 2015
February 24, 2018
Jotaro and crew acquire the help of Iggy, but due to a surprise attack from a water Stand, Kakyoin is injured. Avdol tries out a strategy against the unseen enemy, but the enemy quickly sees through it. Despite everything going on, Iggy is napping.
53
03
"Khnum's Oingo and Thoth's Boingo"
January 23, 2015
March 3, 2018
As the Joestar group arrives in Aswan to check Kakyoin and Avdol into the hospital, the brothers Oingo, whose Stand Khnum allows him to change his face to appear like anyone else, and Boingo, whose Stand Thoth is a comic book that predicts a person's death, plan on stopping the group for DIO.
54
04
"Anubis, Part 1"
January 30, 2015
March 10, 2018
With Kakyoin needing to spend a few more days in hospital to heal his eyes, the others continue across the Nile river to Kom Ombo. Meanwhile, a young man named Chaka discovers a mysterious sword that only he appears to be able to draw out of its sheath. The sword then suddenly moves on its own, killing Chaka's family members before revealing its identity to be that of the Anubis Stand, who declares Chaka as its master and sends him to pursue Jotaro's group.
55
05
"Anubis, Part 2"
February 6, 2015
March 17, 2018
Realizing the sword is the Stand Anubis itself, Polnareff tries to defend himself, which proves difficult as Anubis has memorized all of Silver Chariot's moves. After Polnareff's last-ditch defense fails, Jotaro manages to snap the blade in half using Star Platinum, seemingly stopping Anubis and ending his control of Khan. However, just as Jotaro and Polnareff plan to throw the sword into the Nile, a police officer interferes, causing Polnareff to inadvertedly draw the sword and become possessed by Anubis himself.
56
06
"Bastet's Mariah, Part 1"
February 13, 2015
March 24, 2018
Kakyoin is informed that the Speedwagon Foundation is taking over his medical treatment, allowing his eyes to heal faster. Meanwhile, as Jotaro's group arrive in Luxor, Joseph gets shocked by a strange rock with an electrical socket while visiting the bathroom. Joseph decides to have the group stay in Luxor for the night, unaware that he appears to be emitting a magnetic force, causing metallic objects to be drawn towards him.
57
07
"Bastet's Mariah, Part 2"
February 20, 2015
March 31, 2018 (Subbed)
April 7, 2018 (Dubbed)
Joseph and Avdol try to get themselves detached from each other, facing all kinds of embarrassment in the process, only to wind up stuck on a railroad track as a train approaches.
58
08
"Set's Alessi, Part 1"
February 27, 2015
April 14, 2018
While Jotaro, Polnareff, and Iggy go off in search for Joseph and Avdol, who are busy with their battle with Mariah, they are followed by Alessi, who uses the power of the Stand Set which resides in his shadow to turn Polnareff into a child. Along with his smaller stature, Polnareff's mind starts reverting to that of a child as well, causing him to gradually lose his adult memories.
59
09
"Set's Alessi, Part 2"
March 6, 2015
April 21, 2018
Alessi attempts to drown Polnareff in the bath, only for his bodily instincts to save him at the last second. Discovering that Alessi had used his power to turn the woman into a fetus that will die in a short amount of time, Polnareff attempts to escape with her, turning even younger everytime he touches Set's shadow.
60
10
"D'Arby the Gambler, Part 1"
March 13, 2015
April 28, 2018
Upon arriving in Cairo, Jotaro's group heads to a café where they come across a man named D'Arby who claims to know where DIO's mansion is. Not willing to give up the information for free, D'Arby suggests they should instead gamble for it with their souls on the line.
61
11
"D'Arby the Gambler, Part 2"
March 20, 2015
May 5, 2018
D'Arby prepares his and Jotaro's game of poker by splitting Polnareff and Joseph's souls into six poker chips each, giving Jotaro a set of six to represent his own soul. Jotaro shows off how precise Star Platinum's eyesight is by predicting the deal of the cards, and catches D'Arby about to cheat by second dealing, leading Jotaro to pick a boy near the café to deal for them.
62
12
"Hol Horse and Boingo, Part 1"
March 27, 2015
May 12, 2018
Hol Horse meets up with DIO, who gives him one final chance to defeat Jotaro's group, making it clear what the consequences will be if he fails. To accomplish his goals, Hol Horse kidnaps Boingo and brings him to Cairo, coercing him to team up so that they can combine Thoth's prediction abilities with his Emperor's power. Hol Horse doubts this power at first, but soon discovers that not even his own willpower can resist the predictions Thoth gives out.
63
13
"Hol Horse and Boingo, Part 2"
April 3, 2015
May 19, 2018
Hol Horse holds Polnareff at gunpoint in order to hide from Jotaro and the others, but Polnareff manages to get out of the situation thanks to a lucky sneeze. However, upon being exposed, Hol Horse spills some olive oil which causes a truck to skid out of control and almost hit Jotaro and the others, bringing Thoth's prediction to fruition. Hiding from Jotaro, the only one not left unconscious by the crash, Hol Horse and Boingo follow Thoth's next prediction, which states they can kill Jotaro by shooting Hol Horse's bullets through the pipe system at noon sharp.
64
14
"The Guardian of Hell, Pet Shop, Part 1"
April 10, 2015
June 2, 2018
The group arrives at a beggar's association, where Avdol manages to get help from an informant to search for DIO's hideout. Meanwhile, Iggy, who has gone off on his own again, comes across the building himself, where a falcon named Pet Shop, wielder of the Stand Horus, kills the informant with a large block of ice before he can report back to the others. Quickly realizing he will be targeted next for knowing the location of DIO's hideout, Iggy tries not to get himself involved. However, when a young boy comes looking for his dogs, who were also killed by Pet Shop, he reluctantly decides to come to the boy's rescue.
65
15
"The Guardian of Hell, Pet Shop, Part 2"
April 17, 2015
June 9, 2018
Having been caught by Pet Shop's ice attacks, Iggy is forced to lose one of his paws in order to escape the sewers via its water supply, using The Fool to hide at the bottom of the river. However, even when hiding underwater, Iggy is not safe from Pet Shop, who dives into the river after him and uses his ice in an attempt to crush Iggy's dome. Digging downwards only to find Pet Shop waiting for him, Iggy uses the pressure from the collapsing dome behind him to rush forward and clamp Pet Shop's beak shut just as he prepares an ice missile, causing him to destroy himself.
66
16
"D'Arby the Player, Part 1"
April 24, 2015
June 16, 2018
The servant, who reveals himself to be D'Arby's younger brother Terence T. D'Arby, brings out his Stand Atum to drag Jotaro, Kakyoin, and Joseph into an illusory world. There, D'Arby reveals a collection of dolls which, similar to the Elder D'Arby's poker chips, contain souls of people he has defeated.
67
17
"D'Arby the Player, Part 2"
May 1, 2015
June 23, 2018
Kakyoin uses his higher power level to knock D'Arby off the course, but this turns out to be D'Arby's plan, who uses the push to land further ahead on the course, resulting in Kakyoin losing the match and having his soul trapped in one of D'Arby's dolls. Jotaro steps up to face against D'Arby in a baseball video game, wagering his soul against Kakyoin's, despite having never played a video game in his life.
68
18
"The Miasma of the Void, Vanilla Ice, Part 1"
May 8, 2015
June 30, 2018
D'Arby uses Atum to peer into Jotaro's soul to determine whether Jotaro is lying or not. However, contrary to his deduction that Jotaro was not lying about his pitch, his pitches turn out to be different from expected. This leads D'Arby to suspect that Jotaro is cheating somehow, though in a way that cannot be determined by his Stand's reliance on yes/no questions.
69
19
"The Miasma of the Void, Vanilla Ice, Part 2"
May 15, 2015
July 7, 2018
Believing that Avdol's will is urging him to keep on living, Polnareff and Iggy flee from Vanilla Ice and head straight towards DIO. However, they are cut off by Vanilla Ice, who bites off Polnareff's toes, limiting his movement.
70
20
"The Miasma of the Void, Vanilla Ice, Part 3"
May 22, 2015
July 14, 2018
Despite having accepted his fate, Polnareff discovers he was saved by Iggy, who used the last ounce of his strength to pull him out of the way before succumbing to his injuries and dying. Angered upon losing another comrade, Polnareff takes advantage of the fact Vanilla Ice had been turned into a vampire by DIO and uses sunlight to destroy him. Meanwhile, Jotaro, Joseph, and Kakyoin come across one of DIO's weaker servants, Nukesaku
71
21
"DIO's World, Part 1"
May 29, 2015
TBA
Polnareff attempts to climb up the stairs leading to DIO but keeps finding himself further down, realizing it has something to do with DIO's Stand, The World. Before Polnareff and DIO can clash, Jotaro's group arrive on the scene, learning about DIO's power and Avdol and Iggy's deaths from Polnareff.
72
22
"DIO's World, Part 2"
June 5, 2015
TBA
While initiating his plan, Kakyoin recalls his lonely childhood, feeling thankful for all the experiences he shared with Jotaro and the others. Reducing Heirophant Green's presence, Kakyoin traps DIO in Heirophant Green's barrier, surrounding him with wires that automatically attack once touched. However, the moment DIO activates his Stand, Kakyoin is blown away. Kakyoin is able to deduces the nature of The World's ability but also sustains fatal injuries.
73
23
"DIO's World, Part 3"
June 12, 2015
TBA
Confident in The World's superiority over Star Platinum, DIO stops time to try and finish Jotaro. However, he discovers that, due to Star Platinum being the same type of Stand as The World, Jotaro appears to be able to both perceive him and move himself, albeit only slightly, while time is stopped.
74
24
"Long Travels, Goodbye My Friend"
June 19, 2015
TBA
As DIO is empowered by the blood he got from Joseph, becoming able to stop time for longer periods, Jotaro sees a vision of Joseph's soul, encouraging him not to lose his cool.