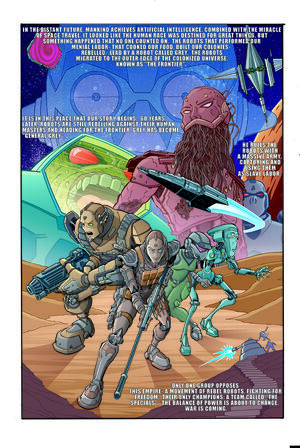 The
Lost Toonami Comic
is an online
Toonami
comic that was set to be released during Toonami's run on
Cartoon Network
, however, it ended up not being released and the
Toonami crew
confirmed that it is not part of the Toonami canon, as
TOM
does not appear in it.
The Toonami crew found the comic on their computers while working on the current Adult Swim iteration and used the Toonami Tumblr to release the pages of the comic on different days tagged with "comic" between November 24, 2012[1] and February 15, 2013[2]. They also made a zip folder, containing all the pages, available after they had uploaded all of the pages onto Tumblr. The comic was the first installment in what was intended to be a series which would have included TOM and SARA.[1]
Comic Pages
Edit
Pencils - Nick Bragetta
Inks - John Lowe
Colors - Lee Loughridge
Lettering - Jon Proctor
Produced by - Zylonol Studio
References
Edit
↑ 1.0 1.1 "Lost Toonami Comic Intro Page ". toonami.tumblr.com. November 24, 2012. http://toonami.tumblr.com/post/36434459289/hey-guys-todays-lil-goodie-is-the-intro-page-to

. Retrieved on July 16, 2016

.

 

↑ "Los Toonami Comic, page 22… THE END ". toonami.tumblr.com. February 15, 2013. http://toonami.tumblr.com/post/43149086707/los-toonami-comic-page-22-the-end

. Retrieved on July 16, 2016

.

 
Ad blocker interference detected!
Wikia is a free-to-use site that makes money from advertising. We have a modified experience for viewers using ad blockers

Wikia is not accessible if you've made further modifications. Remove the custom ad blocker rule(s) and the page will load as expected.