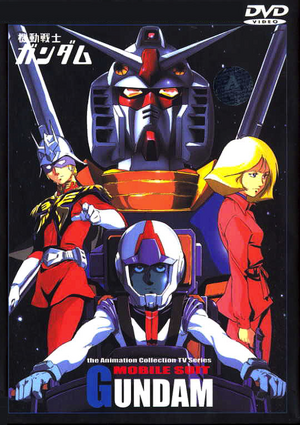 Mobile Suit Gundam is a 43 episode Japanese anime series created and directed by Yoshiyuki Tomino. Mobile Suit Gundam was produced by Nagoya Broadcasting Network, Sotsu Agency, and Sunrise. The English adaptation of the anime is licensed by Bandai Entertainment. The series was not popular when it first aired, and in fact came close to being cancelled. The series was originally set to run for 52 episodes but was cut down to 39 by the show's sponsors, which included Clover (toy company) (the original toymakers for the series). However, the staff was able to negotiate a one month extension to end the series with 43 episodes.
The series was broadcast in Japan on Nagoya Broadcasting Network between April 7, 1979 and January 26, 1980, spanning 43 episodes. The English adaptation aired in the United States on Cartoon Network's Toonami programing block from July 23, 2001 until September 12, 2001, when it was removed due to the September 11th Attacks. Episode 38 was skipped due to the attacks, and the show removed altogether from the block after Episode 39. The final episode of the series eventually air on Toonami's "A Night of New Years Eve-il" special on January 1, 2002. The 15th episode - "Cucuruz Doan's Island" never aired in English. On June 8, 2002, the series was given another chance by Cartoon Network on their late-night Adult Swim block, but it was again pulled before completing its run because of low ratings.
Following the success of the Mobile Suit Gundam TV series, Yoshiyuki Tomino returned in 1981 and reworked the footage into three separate compilation movies. The first two movies, Mobile Suit Gundam and Mobile Suit Gundam: Soldiers of Sorrow, were released in 1981. The third movie, Mobile Suit Gundam: Encounters in Space, was released in 1982.
Each of the three movies is largely composed of old footage from the TV series, however Tomino felt that some things could be changed for the better. Tomino removed several aspects of the show which he felt were still too super robot-esque for the real robot series he intended Gundam to be, such as the Gundam Hammer weapon. The G-Armor upgrade parts were also completely removed and replaced in the narrative by the more realistic Core Booster support fighters, and Hayato receives a RX-77 Guncannon at Jaburo to replace the disadvantaged RX-75 Guntank. The third movie also includes a substantial amount of new footage expanding on the battles of Solomon and A Baoa Qu.
On May 30, 2006, Bandai Entertainment re-released the English dub of the TV series in a 10 volume DVD set. In 2011, Bandai released the series in two sets.
Series Overview
Edit
| Color | Season | Episodes | U.S. Season Premiere | U.S. Season Finale |
| --- | --- | --- | --- | --- |
| | 1 | 43 | July 23, 2001 | June 2, 2002 |
| | Movies | 3 | | |
Season 1 (1979-1980)
Edit
#

Episode Title

Directors

Writers

Japanese Airdate

English Airdate

1
"Gundam Rising"
Shinya Sadamitsu
Yoshiyuki Tomino
Hiroyuki Hoshiyama
April 7, 1979
July 23, 2001
Civilian Amuro Ray is forced to pilot a prototype Federation mobile suit called a Gundam, when enemy Zeon mobile suits attack his home space colony.
2
"Destroy Gundam!"
Ryoji Fujihara
Yoshiyuki Tomino
Kenichi Matsuzaki
April 14, 1979
July 24, 2001
In order to evacuate Side Seven, Amuro Ray and the Gundam duel Char Aznable and his custom Zaku out in space.
3
"Vote to Attack"
Hideyoshi Ojika
Yoshiyuki Tomino
Yoshihisa Araki
April 21, 1979
July 25, 2001
In order to improve their chances of eluding Char Aznable's pursuit of White Base, the crew has to vote whether to attack a Zeon supply ship or not.
4
"Escape From Luna II"
Shinya Sadamitsu
Masaru Yamamoto
April 28, 1979
July 26, 2001
After arriving at a Federation asteroid military base, the White Base is confiscated and its crew are arrested for violating military protocol by allowing civilians to use top secret government property.
5
"Re-Entry to Earth"
Ryoji Fujihara
Yoshiyuki Tomino
Hiroyuki Hoshiyama
May 5, 1979
July 27, 2001
Bright Noa is instructed to take the White Base to a military base on Earth, but first they have to take on Char Aznable's forces near the atmospheric entry point.
6
"Garma Strikes"
Hideyoshi Ojika
Masaru Yamamoto
May 12, 1979
July 30, 2001
White Base arrives on Zeon territory due to Char Aznable's strategy. Meanwhile, Garma Zabi, eager to impress his sister Kycilia and his friend Char, decides to attack White Base.
7
"The Core Fighter's
Escape"
Ryoji Fujihara
Kazuo Yamazaki
Yoshihisa Araki
May 18, 1979
July 31, 2001
Amuro attempts to contact Federation forces by flying back into space with the Core Fighter.
8
"Winds of War"
Shinya Sadamitsu
Kenichi Matsuzaki
May 26, 1979
August 1, 2001
A cease fire is declared between Zeon and Federation forces when the refugees aboard White Base decide to jump ship.
9
"Fly, Gundam!"
Hideyoshi Ojika
Yoshiyuki Tomino
Hiroyuki Hoshiyama
June 2, 1979
August 2, 2001
Amuro feels unwilling to pilot the Gundam anymore, while Garma Zabi is planning to personally lead an attack on White Base.
10
"Garma's Fate"
Ryoji Fujihara
Masaru Yamamoto
June 9, 1979
August 3, 2001
Garma's task force consisting of Gaws pursue White Base to the now ruined city of New Yark.
11
"Icelina- Love's Remains"
Shinya Sadamitsu
Yoshihisa Araki
June 16, 1979
August 6, 2001
Icelina Esconbach asks a Zeon officer to lead a special mission to destroy White Base, which she believes is responsible for the death of her boyfriend Garma.
12
"The Threat of Zeon"
Yuichi Yokoyama
Yoshiyuki Tomino
Kenichi Matsuzaki
June 23, 1979
August 7, 2001
Gihren Zabi uses the death of his brother Garma as a rallying point for the Zeon cause while a new task force led by Ramba Ral and Gouf mobile suit pursue White Base.
13
"Coming Home"
Ryoji Fujihara
Hiroyuki Hoshiyama
June 30, 1979
August 8, 2001
Amuro Ray is reunited with his mother Kamaria when the crew of White Base coincidentally decides to rest near the place where he was born.
14
"Time, Be Still"
Shinya Sadamitsu
Yoshiyuki Tomino
Yoshiyuki Tomino
July 6, 1979
August 9, 2001
Time is running out for Amuro when a small squadron of Zeon soldiers on hover-bikes plant time bombs all over the Gundam's frame.
15
"Cucuruz Doan's Island"
Yoshiyuki Tomino
Shinya Sadamitsu
Yoshihisa Araki
July 14, 1979
N/A
When a distress signal is detected on a small island in the Pacific Ocean, Amuro is dispatched with the Core Fighter to investigate the source.
Note: This episode was neither broadcast nor made available on DVD in North America.
16
"Sayla's Agony"
Yoshiyuki Tomino
Masaru Yamamoto
July 21, 1979
August 10, 2001
When the crew runs out of salt, Sayla Mass absconds with the Gundam without authorization in the hopes of finding out whether Char Aznable is her long lost brother.
17
"Amuro Deserts"
Ryoji Fujihara
Yoshiyuki Tomino
Kenichi Matsuzaki
July 28, 1979
August 13, 2001
Bright Noa decides to relieve Amuro as pilot of the Gundam after a tactical blunder made by the latter on the field of battle nearly results in defeat.
18
"Zeon's Secret Mine"
Shinya Sadamitsu
Kenichi Matsuzaki
August 4, 1979
August 14, 2001
The crew of White Base searches for Amuro and the Gundam; while Amuro hopes to end the war by attacking a mine believed to be the main source of iron ore for the Zeon war industry.
19
"Ramba Ral's Attack"
Susumu Gyoda
Yoshiyuki Tomino
Hiroyuki Hoshiyama
August 11, 1979
August 15, 2001
A mobile suit squadron led by Ramba Ral and his Gouf attack White Base while Amuro and the Gundam return just in time to help.
20
"Hand-to-Hand Combat"
Ryoji Fujihara
Yoshiyuki Tomino
Masaru Yamamoto
August 18, 1979
August 16, 2001
An all-out battle breaks out inside White Base as Ramba Ral and his soldiers infiltrate the ship in the hopes of capturing or destroying it.
21
"Sorrow and Hatred"
Susumu Gyoda
Yoshiyuki Tomino
Yoshihisa Araki
August 25, 1979
August 17, 2001
Crowley Hamon spearheads one last suicidal attack on White Base with what remains of the troops once led by Ramba Ral.
22
"The Trap of M'Quve"
Shinya Sadamitsu
Kenichi Matsuzaki
September 1, 1979
August 20, 2001
As Operation Odessa nears, Colonel M'Quve lures the White Base into a trap while Bright Noa is unable to captain the ship.
23
"Matilda's Rescue"
Ryoji Fujihara
Hiroyuki Hoshiyama
September 8, 1979
August 21, 2001
Lieutenant Matilda's supply corps is attacked by Zeon Goufs when they attempt to send upgrade modules for the Gundam and supply repair parts for White Base.
24
"Black Tri-Star"
Osamu Sekita
Yoshiyuki Tomino
Masaru Yamamoto
September 15, 1979
August 22, 2001
A mole inside the Federation tips off Zeon HQ, who then send the "Black Tri-Stars" special team ordered to destroy the White Base and the prototype mobile suits.
25
"The Battle of Odessa"
Shinya Sadamitsu
Yoshihisa Araki
September 22, 1979
August 23, 2001
Amuro discovers the Zeon mole, stops a nuclear bomb, and faces off against the remaining two members of the "Black Tri-Stars" as the battle at Odessa continues.
26
"Char Returns"
Ryoji Fujihara
Yoshiyuki Tomino
Kenichi Matsuzaki
September 29, 1979
August 24, 2001
Under the command of Char Aznable, new Zeon amphibious mobile suits attack White Base, while it's docked in a Federation base at Belfast.
27
"A Spy on Board"
Hiroshi Hisano
Yoshiyuki Tomino
Hiroyuki Hoshiyama
October 6, 1979
August 27, 2001
Kai Shiden develops a friendship with Miharu Ratokie, a local girl, while Char prepares a second amphibious attack on the Federation at Belfast.
28
"Across the Atlantic
Ocean"
Osamu Sekita
Yoshiyuki Tomino
Masaru Yamamoto
October 13, 1979
August 28, 2001
Thanks to intelligence acquired from Miharu, Flanagan Boone and his "Mad Angler" squadron attack the White Base en route to Jaburo headquarters in South America.
29
"Tragedy in Jaburo"
Shinya Sadamitsu
Yoshiyuki Tomino
Yoshihisa Araki
October 20, 1979
August 29, 2001
The White Base finally reaches Jaburo general headquarters and Zeon launches a massive invasion on the base led by Char and his custom MSM-07 Z'Gok.
30
"A Wish of War Orphans"
Ryoji Fujihara
Masaru Yamamoto
October 27, 1979
August 30, 2001
Char infiltrates Jaburo with a squadron of MSM-04 Acguy mobile suits and plant time bombs on the Federation's new mass-produced GMs, but not before being discovered by Katz, Kikka, and Letz.
31
"A Decoy in Space"
Hiroshi Hisano
Yoshiyuki Tomino
Hiroyuki Hoshiyama
November 3, 1979
August 31, 2001
White Base and the Gundam confront the cruiser "Zanzibar", led by Char, and a mobile armor called MA-05 Bigro in low earth orbit.
32
"Breakthrough"
Osamu Sekita
Yoshiyuki Tomino
Kenichi Matsuzaki
November 10, 1979
September 3, 2001
A task force of Musai cruisers and Rick Doms led by Dren attempt to destroy the White Base as it heads towards the neutral colony of Side Six.
33
"Farewell in Side 6"
Shinya Sadamitsu
Yoshiyuki Tomino
Masaru Yamamoto
November 17, 1979
September 4, 2001
In need of repairs, the White Base is attacked outside the neutral Side Six by a fleet led by Captain Coskon.
34
"A Fateful Encounter"
Ryoji Fujihara
Hiroyuki Hoshiyama
November 24, 1979
September 5, 2001
Inside Side Six, Amuro meets a beautiful girl named Lalah Sune and tensions run high when a Zanzibar ship led by Char Aznable docks next to the White Base.
35
"The Glory of Solomon"
Hiroshi Hisano
Kenichi Matsuzaki
December 1, 1979
September 6, 2001
A massive Federation combined space fleet attacks the Principality of Zeon's Fortress of Solomon, commanded by Dozle Zabi.
36
"Big Zam's Last Stand"
Osamu Sekita
Yoshiyuki Tomino
Kenichi Matsuzaki
December 8, 1979
September 7, 2001
As the battle continues, a hulking mobile armor piloted by Dozle Zabi inflicts heavy losses on the Federation. Meanwhile, Amuro and Sleggar come up with a plan to stop its onslaught.
37
"The Duel in Texas"
Shinya Sadamitsu
Yoshiyuki Tomino
Masaru Yamamoto
December 15, 1979
September 10, 2001
Amuro Ray's Gundam duels Colonel M'Quve's YMS-15 Gyan on the abandoned and dilapidated colony of Texas while Char and Lalah watch from afar.
38
"Char and Sayla"
Ryoji Fujihara
Kenichi Matsuzaki
December 22, 1979
April 9, 2002
Char Aznable's Gelgoog takes over for M'Quve by engaging the Gundam while the White Base enters the Texas colony and sends Sayla Mass and Job John to search for Amuro.
39
"The Newtype: Challia
Bull"
Osamu Sekita
Yoshiyuki Tomino
Masaru Yamamoto
December 29, 1979
September 12, 2001
Gihren Zabi sends Char a Newtype to pilot, the new "Braw Bro". Meanwhile, Amuro's own Newtype abilities are growing as he senses the presence of Lalah.
40
"Lalah's Dilemma"
Osamu Sekita
Yoshiyuki Tomino
Yoshihisa Araki
January 5, 1980
June 2, 2002
The Gundam is upgraded and Lalah's Elmeth enters combat for the first time; Amuro and Lalah cross paths again but this time as enemies.
41
"A Cosmic Glow"
Shinya Sadamitsu
Kenichi Matsuzaki
January 12, 1980
June 2, 2002
Amuro and Lalah fight each other for the second time and communicate telepathically, while Gihren Zabi inspects the construction of the Solar Ray.
42
"Space Fortress A Baoa
Qu"
Ryoji Fujihara
Yoshiyuki Tomino
Hiroyuki Hoshiyama
January 19, 1980
June 2, 2002
Federation forces, including White Base, proceed to invade the Fortress of A Baoa Qu despite losing half of their combined fleet caused by Zeon's Solar Ray; Amuro and Char, who is now piloting the Zeong, engage in battle again.
43
"Escape"
Osamu Sekita
Yoshiyuki Tomino
Hiroyuki Hoshiyama
January 26, 1980
December 31, 2001
The Battle of A Baoa Qu reaches a critical point; White Base is deep within enemy territory, Amuro and Char's relentless duel continues, and Kycilia Zabi struggles in command.
Compilation Movies
Edit
#

Episode Title

Directors

Writers

Japanese Release

English Release

1
"Mobile Suit Gundam Movie I"
Yoshiyuki Tomino
Yoshiyuki Tomino
Hajime Yatate
March 14, 1981
May 7, 2002
In Universal Century 0079, the Earth Federation and the Principality of Zeon are engaged in the ferocious One Year War, when the Zeon attack a space colony (part of their Operation British), resulting in the death of all the inhabitants. The colony was set on a collision course with the Federation headquarters in Jaburo, South America, but was knocked off course and destroyed Australia. As a result, the Antarctic Treaty was signed between the two powers, which prohibited the use of colonies and nuclear weapons.
2
"Mobile Suit Gundam Movie II:
Soldiers Of Sorrow"
Yoshiyuki Tomino
Yoshiyuki Tomino
Hajime Yatate
July 11, 1981
May 7, 2002
A Zeon mine of M'Quve in Europe hears reports that the White Base is heading his way, and he decides to let Ramba Ral handle it for him. He and Hamon attack the White Base, while Sayla is convinced that Zeon soldiers would know about her brother Casval. A battle begins with Sayla and Amuro against Ramba and the Zakus. After the battle, Sayla is convinced Char is Casval and Amuro interrogates a captured Zaku while Cozun breaks out of his cell and contacts Ral about the suits in the ship.
3
"Mobile Suit Gundam Movie III:
Encounters In Space"
Yoshiyuki Tomino
Yoshiyuki Tomino
Hajime Yatate
March 13, 1982
May 7, 2002
Char asks a Zeon Musai squad commanded by Dren to help attack the White Base, which is approaching them at the moment. All mobile suits and Core Boosters are launched, and the battle begins. Secretly, Amuro destroys Dren's ship and after the battle, Bright takes the ship to the neutral Side 6 to buy time as the crew leaves and enters the city, while Amuro meets up with his father for one last conversation. He seeks shelter when rain pours, and locates a house by a lake and meets a beautiful Newtype girl named Lalah Sune.
Ad blocker interference detected!
Wikia is a free-to-use site that makes money from advertising. We have a modified experience for viewers using ad blockers

Wikia is not accessible if you've made further modifications. Remove the custom ad blocker rule(s) and the page will load as expected.