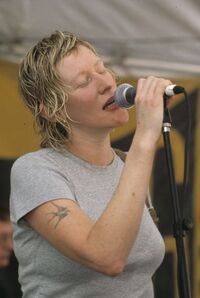 Sally Timms (born 29 November 1959) is an English singer and songwriter. Timms is best known for her long involvement with The Mekons, the band she joined in 1985. She also provided the voice of SARA, TOM's AI companion on the Cartoon Network programing block Toonami from 2000 to 2007. Even though the character SARA has returned to the revived block, according to the creators of Toonami via the official Toonami Tumblr, Timms will not be reprising the role.
Ad blocker interference detected!
Wikia is a free-to-use site that makes money from advertising. We have a modified experience for viewers using ad blockers

Wikia is not accessible if you've made further modifications. Remove the custom ad blocker rule(s) and the page will load as expected.