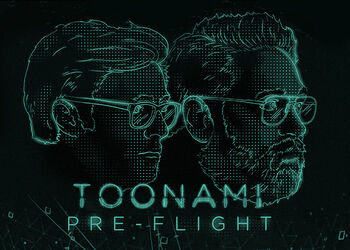 Toonami: Pre-Flight
is the official Toonami live-streaming show that launched on February 27, 2015. Pre-Flight streams on
adultswim.com
every Friday (previously Tuesday) at 6:30 PM EST, and then re-airs each day at 6:30 PM EST.
[1]
The hour-long show is hosted by
Jason DeMarco
and
Gill Austin
. Archived episodes can be viewed on
adultswim.com
up to two weeks back at a time or downloaded from
Toonami Digital Arsenal
.
There are several different segments on the show, some of which will be regular, such as "Question of the Week."
Question of the Week
Edit
"Question of the Week" is a segment where the 2 hosts answer a fan submitted question from the official Toonami Facebook page.
Movie of the Week
Edit
Jason and Gill discuss one of the films from Paste Magazine's top 100 greatest anime films list, compiled by Toussaint Egan and Jason DeMarco.
Sneak Peak
Edit
Sneak Peak gives viewers a first look at the newly created Toonami piece (Game Review, Promo, AMV) that will air during the Toonami broadcast. The piece is then discussed by the hosts.
Moving Pictures
Edit
Jason watches and reviews a viewer suggested animated film.
One Man's Trash
Edit
Gill attempts to achieve 100% completion or unlock rare/time consuming achievements in video games that viewers have suggested.
Blum Room
Edit
Steve Blum, the longtime voice of TOM, has his own segment on the show where he discusses interesting topics such as his trip to the Jet Propulsion Laboratory (JPL).
U Tweet, Me Watch
Edit
Dana Swanson, voice of SARA, watches a pre-2000 anime series suggested by fans on Twitter and reviews it. You can suggest a series for Dana to watch on Twitter and she may review it.
Mobile on the Move
Edit
Dana plays and reviews a viewer suggested mobile game.
Dana records her trip to a convention.
Fan Promo
Edit
Fan created promos, AMVs, etc. are shown and discussed. Promos featured will also be posted on the Toonami Tumblr. Jason and Gill also mentioned that some of these videos may end up on the Toonami broadcast at some point.
External Links
Edit
References
Edit
↑ "So is PreFlight not rerunning anymore? ". ask.fm. August 25, 2015. http://ask.fm/Clarknova/answer/130925066985

. Retrieved on August 28, 2015

.