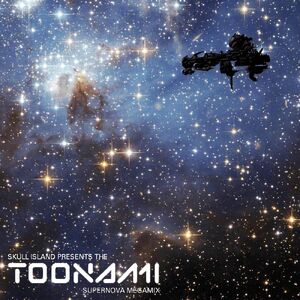 Toonami: Supernova Megamix is a 22 track official sequel to the Toonami: Black Hole Megamix released in December 2012 on the official Toonami tumblr. The album was mixed by Skull Island (Jason DeMarco and Brent Busby). Among other tracks, the album included voice acting outtakes from Peter Cullen and Steve Blum, as well as a remixed version of Com Truise's Brokendate (included in the first Toonami promo after its revival, To Hell With Fear).
The Supernova Megamix was released to celebrate the inclusion of Twitter to Nielsen ratings by posing a challenge: if fans could get the tumblr page to 3500 followers and make every program shown on Toonami's December 22 broadcast trend nationally on Twitter, an official sequel to Black Hole Megamix would be released on Christmas Day. Despite the page not reaching 3500 followers the album was released on December 24th.
Download Links
Edit
Ad blocker interference detected!
Wikia is a free-to-use site that makes money from advertising. We have a modified experience for viewers using ad blockers

Wikia is not accessible if you've made further modifications. Remove the custom ad blocker rule(s) and the page will load as expected.