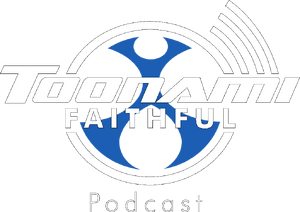 Toonami Faithful is a Toonami fan site that features Toonami news, a Toonami related forum, as well as a podcast that focuses solely on Toonami. The podcast was created by site creator, Paul Pescrillo, and host and producer, Jose Argumedo. The podcast has featured many guests including Toonami co-creator, Jason DeMarco, the voice of TOM, Steve Blum, the creator of Megas XLR, George Krstic, etc. After 100 episodes, Jose left the show to pursue other opportunities, and Sketch took his place as host from episode 101, onwards.
Toonami Faithful with the help of Chad Bonin were responsible for setting up the Toonami Panel at MomoCon and their podcast has been featured on the official Toonami Tumblr.
Toonami Faithful Podcast
Edit
Podcast #2: Richie Branson, Rapper behind the "#BringBackToonami" and "Toonami's Back Bitchies" songs
Podcast #4: Kyle Hebert, voice actor in shows such as Bleach and DBZ for a panel on piracy
Podcast #5: Kadeshflow, Rapper behind the "Toonami Faithful" theme
Podcast #8: Hush, Musician behind the "Toonami Mix Beat Tape"
Podcast Exclusive #1: Kyle Hebert, On Camera at AFO
Podcast #9: Mike McFarland, ADR Director and Voice Actor for many FUNimation properties
Podcast #11: Jargon and JFKrateZ, Rappers featured on the Nerdcore Absolution album
Podcast #14: Jason DeMarco Interview
Podcast #16: Kadeshflow and Hush, Musicians of various nerdcore raps and Toonami themed music
Podcast Exclusive #2: Richie Branson, On Camera Interview while on tour with MC Chris
Podcast #21: Brain Ige, Viz Representative to discuss Neon Alley 
Podcast #22: George Krstic creator of Megas XLR Interview
Podcast Exclusvie #3: Steve Blum, voice of TOM Interview
Podcast #24: Vic Mignogna, Voice Actor on shows like FMA and Bleach
Podcast #35: Richard Epcar, Voice Actor on Ghost In The Shell discusses Robotech, Kickhear and Ghost In The Shell
Podcast #37: Kadeshflow, Musician on Nerdcore Absolution
Podcast Exclusive #4: MoMoCon Interviews, On Camera Interviews with Steve Blum and the Toonami Staff
Podcast #40: Glenn Bartlet from Toonami Asia Interview
Podcast #41: Michael Hefferon, president of Rainmaker Entertainment, creators of ReBoot Interview
Podcast #43: Jason DeMarco Interview on IGPX
Podcast #48: Dana Swanson, voice of SARA Interview
Podcast Exclusive #5: Kadeshflow, On Camera Interview, so-called "Lost Interview" by the staff
Podcast #52: On Year Anniversary, Features All Previous Guests In The Intro And Various Fans
Podcast Exclusive #7: Bryce Papenbrook, Voice of Kirito from Sword Art Online from Anime Boston
Podcast Exclusive #8: Zach Bolton, ADR Driector for FUNimation from Anime Boston
Podcast Exclusive #9: Kyle Hebert, Second On Camera Interview from Otakon
Podcast Exclusive #10: Shinichiro Watanabe, On Camera Interview with the director of Cowboy Bebop and upcoming Space Dandy from Otakon
Podcast Exclusive #11: Malie Flanagan, On Camera Interview with Emmy-Awarding Voice Actress who plays Naruto
Podcast #60: George Krstic, Returning guest to talk about Megas XLR and Clone Wars
Podcast #64: Cherami Leigh, voice of Asuna from Sword Art Online Interview
Podcast #67: Chris Prynoski, founder of Titmouse Inc.
Podcast #68: J. Michael Tatum, voice Actor on shows like Soul Eater and One Piece
Podcast #74: Jason DeMarco, Interview #3
Podcast #76: Jim Zub, writer of the Samurai Jack Comic Book
Podcast #79: Sonny Strait, voice Actor of TOM 1, Krillin from DBZ, Usopp from One Piece, etc.
Podcast #81: EJ River, Marketing Specialist For Aniplex USA
Podcast #83: Monica Rial, voice actor of Shirow from Deadman Wonderland.
Podcast #86: Joel McDonald, voice actor of Meow on Space Dandy.
Podcast #87: Michelle Ruff, voice actor of Rukia on Bleach.
Podcast #94: Megas XLR 10th Anniversary Special, featuring show creators, George Krstic, Jody Schaeffer, Chris Prynoski and lead designer, Edward Artinian.
Podcast #95: Start of Ghost In The Shell month, a celebration of the franchise's 25th Anniversary. Features Richard Epcar, voice actor for Batou.
Podcast #96: Mary Elizabeth McGlynn, voice actor for Motoko Kusanagi on Ghost In The Shell.
Podcast #98: Alexis Tipton, voice actor of Honey on Space Dandy.
Podcast #100: Live call-in show with fans of Toonami from all over the world calling in. Also, Jose's final episode on the show, as he is now pursuing a career at CNN.
Podcast #102: Cassandra Lee Morris, voice of Suguha Kirigaya from Sword Art Online.
Toonami Faithful MoMoCon Exclusives
Edit
Character Profiles
Edit
External Links
Edit
Ad blocker interference detected!
Wikia is a free-to-use site that makes money from advertising. We have a modified experience for viewers using ad blockers

Wikia is not accessible if you've made further modifications. Remove the custom ad blocker rule(s) and the page will load as expected.