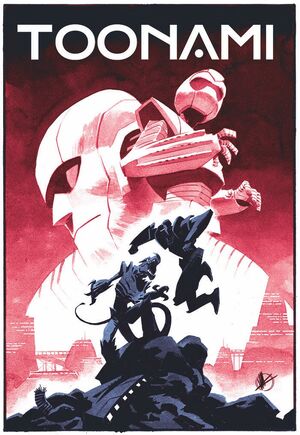 Trapped is a Toonami comic that was released, on Toonami.com, on November 27, 2016, after the final installment of The Intruder III concluded. The comic is a prequel to The Intruder III, taking place before the events of that Total Immersion Event. The plot involves TOM exploring the surface of Shogo 162 and coming across another being, who gives TOM a new exoskeleton so he can defend Shogo 162 from a menacing beast.
Story - Brenden Fletcher
Art - Cameron Stewart
Color - Lee Loughridge
Lettering - Jared Fletcher
Ad blocker interference detected!
Wikia is a free-to-use site that makes money from advertising. We have a modified experience for viewers using ad blockers

Wikia is not accessible if you've made further modifications. Remove the custom ad blocker rule(s) and the page will load as expected.