World's Finest: The Gauntlet of Doom was a Macromedia Shockwave (now Adobe Shockwave) Toonami game that was available to play on cartoonnetwork.com beginning in 2002. The game was created to coincide with the Toonami event Batman VS Superman. The game is no longer available at cartoonnetwork.com but the game can still be played at Toonami: Lost Data.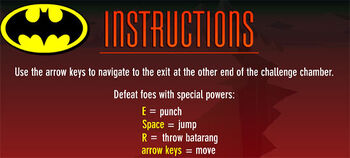 After being kidnapped by a couple of alien twins, Superman and Batman are forced to battle their way through zombies, rats, and robots as the twins try to determine which hero is superior. In this 5 part "gomic" (game + comic) the player chooses the hero that they think is best equipped to beat each level's enemy.
External Links
Edit
Ad blocker interference detected!
Wikia is a free-to-use site that makes money from advertising. We have a modified experience for viewers using ad blockers

Wikia is not accessible if you've made further modifications. Remove the custom ad blocker rule(s) and the page will load as expected.